Welcome to The Comfort Zone Bed and Breakfast
At The Comfort Zone Bed & Breakfast, you can experience a peaceful retreat, a fishing getaway or experience a natural wonder at the Salmon River. We shall provide you a world of warmth and relaxation. At The Comfort Zone Bed & Breakfast you can catch Coho and King Salmon, Brown Trout, Steelhead and Walleye. We offer clean, comfortable, quiet pet friendly accommodation with awesome amenities. The rooms are big and equipped with bathroom essentials. We provide an inviting service and are located at a convenient location as it's near highways in Upstate New York.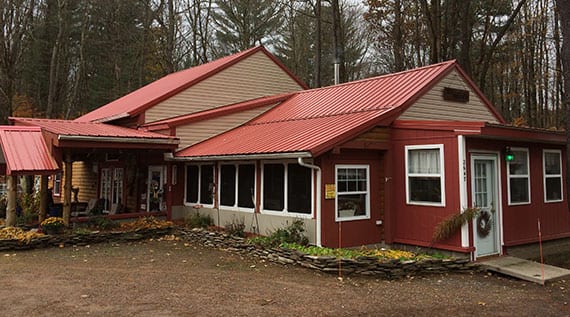 Whether you are seeking a peaceful retreat, a fishing getaway or simply want to experience a natural wonder, you will find what you are looking for at The Comfort Zone Bed and Breakfast. We are conveniently located and offer friendly service. Come stay with us.

Best place to stay anytime! As a monthly fishing guest I crave the awesome breakfast sandwich and hospitality which is perfect! Great rooms and relaxing setup!
Michael Hain said
November 17th, 2010 7:57 PM

Cookie and Len, We want to thank you again for the great experience we had at your Inn. The Comfort Zone is the perfect name for such a place. Clean comfortable rooms are just the beginning of what we have to say. The personal touch you both along with Kenny put into dealing with your guests makes The Comfort Zone a place of choice. Cookie, your coffee is the best and your personal delivery of it to our room was beyond any expectation. Sincerely, Chuck and Cathy
Chuck and Cathy Wygal said
September 12th, 2010 12:29 PM

Hey cuz! What up? We miss yous. Any room at the INN? Love you guys! The comfort zone look great! I'm so proud of yous all.
Conz & RIC said
September 9th, 2010 6:01 AM

Great place to stay and NOT JUST FOR FISHERMAN !!! Lenny & Cookie, wanted to thank you again for a very comfortable stay at your B&B. The fact that my 80 year old parents and my wife and I, (who have stayed at many B&B's) were so well received and comfortable speaks volumes on your commitment and B&B itself. Anyone looking for an upscale cabin, with nice appointments and VERY accommodating proprietors need look no farther than The Comfort Zone B&B. You guys are doing and great job and you named your place right. Thanks for everything and we WILL be back! Jeff & Mary Lou, Middletown, CT
Jeff & Mary Lou said
August 31st, 2010 9:18 AM

Cookie and Len are the perfect host's. Our stay was very comfortable, the next days breakfast was fantastic and the hospitality outstanding. Your doing it right! Both Lesley and I hope to stop by next time with rods & flies at the ready. Thanks for the welcoming atmosphere and open conversation.
Ted & Lesley Poper said
August 17th, 2010 7:43 PM

Hey Lenny whats up brother Im the darren from pa. I stay at stoneys with my pop when we come up fishing remember me? give me a shout sometime .We plan to come up 2nd week of sept. hope to see you again
Darren Ballas said
August 14th, 2010 12:42 PM

Cookie and Len, Thanks again for a great stay! Looking forward to seeing you both again in September and November. All the best...Patrick
Patrick McCloskey said
August 9th, 2010 10:01 AM

Bill said
July 5th, 2010 7:52 AM

Anyone pursuing outdoor sports in the Salmon River area should stay here. Unless you prefer a traditional motel next to an interstate, you can't go wrong at the Zone. Rustic setting, comfortable rooms, great food, great locale. Thanks Cookie and Lenny.
Grant Mahon said
March 18th, 2010 12:19 PM

Cookie.. the web site looks great. I stayed there this Fall great place the lunches were AWESOME.
John Alvarado said
January 15th, 2010 6:39 AM

Website looks great Cook. I see that you got the back porch on. I can't wait to get back to see you and RELAX.
Gail Braun said
November 13th, 2009 5:05 PM

The website looks great. The pictures sure do look familar.
Doctor Ray said
November 4th, 2009 11:01 AM

Len and Cookie are the best hosts you could ever ask for!! The attention to detail and willingness to go the extra mile was beyond compare. We rebooked right away and cannot hardly wait another year to get back. Book early and book soon, as word gets out, there will be hardly a day left. I really want to keep this to myself. All the Best to Len, Cookie and crew Dwayne Siver The Real Milk Paint Co.
Dwayne Siever said
November 4th, 2009 8:31 AM

Cookie&Len great job on website. Ray speaks highly of your place. My grandson that is in the AF is a big fisherman and he would love the place. I think Big Uncle Ray would have loved it also. Take care and good luck. Don and Pat.
Don Pekarsky said
November 4th, 2009 6:14 AM